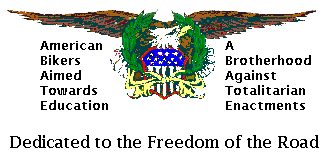 A Short History of ABATE





ABATE WEB SITES


Alaska
Alaska Anchorage
Alaska Kenai Peninsula Chapter
Alaska Tanana Valley
Alaska Valdez
Arizona
Arkansas
Arkansas
California
California Local 3 (Thousand Oaks).
California Local 6 (San Diego).
California Local 10 (Tuolumine County).
California Local 16 (Santa Barbara)
California Local 19 (Pomona Valley)
California Local 29 (Morongo Basin)
California Local 32 (Santa Clara)
California Local 54
Colorado
Delaware
Florida
Florida Citrus County Chapter
Florida Duval County Chapter
Florida Gator Alley Chapter (South Florida)
Florida Inerstate Chapter
Georgia
Illinois
Illinois Blackhawk Chapter
Illinois Chicago Chapter
Illinois Hubbard Trail Chapter
Illinois Northern Illinois Chapter
Illinois St. Clair County
Illinois Westgate Chapter
Indiana
Iowa
Iowa District 23
Kansas District 5
Louisiana
Maryland
Maryland Charles County Chapter
Maryland St. Mary's Chapter
Michigan
Michigan Region 15 - Wayne County
Minnesota
Minnesota Straight River Chapter
Mississippi
Montana Hounds Tooth
Montana Lower Yellowstone
Montana (Northwest)
Nevada
Nevada Elko Chapter
Nevada (Southern)
New Jersey
New Mexico Tres Rios Chapter
New York
New York Niagara Chapter
New York Putnam/Westchester Chapter
North Carolina Charlotte Chapter
Ohio
Ohio Region Zero
Ohio Region 5
Ohio Region 8
Oklahoma
Oklahoma
Oregon
Oregon Washington County Chapter
Pennsylvania
Pennsylvania Philadelphia Chapter
Pennsylvania Lancaster County Chapter #65
Pennsylvania Mason-Dixon Chapter
South Carolina
South Dakota
South Dakota Sioux River
Texas Denton Chapter
Texas Arlington Chapter
Utah
Virginia
Virginia First Capital Chapter
Virginia Mason-Dixon Chapter
Washington
Washington Cowlitz County
Wisconsin
Wyoming



CANADA ABATE & MRO'S



Canadian Motorcycle Association
BCCOM - British Columbia Coalition of Motorcyclists
Ontario Confederation Of Clubs
Woodstock Chapter 2 ABATE, Ontario, Canada





Other Motorcycle Rights Organizations



American Motorcyclist Association
Blue Ribbon Coalition
Colorado Bikers For Freedom
Freedom of Road Riders of Missouri
Freedom of the Road for Vermont
Modified Motorcycle Association of California Division 2
Modified Motorcycle Association of Massachusetts
Motorcycle Riders Foundation
National Motorists Association Alaska State Chapter
NHMRO New Hampshire Motorcyclists' Rights Organization.
Northwest Motorcycle Association (NMA) Off-Road Motorcycling.
Pennsylvania Coalition of Motorcyclists
United Bikers of Maine (UBM)
Virginia Coalition of Motorcyclists
WARPAC Wisconsin Associated Riders Political Action Committee
Web Riders PCOM Chapter 1 Lancaster, PA.